Qlik Sense
All data collected from the event management system and our partner network is incorporate into oneclear dashboard using Qlik Sense.
Your dashboard layout is based on your wishes and your KPIs. This gives you the option to filter and edit data as you prefer, analyze trends, costs, on-time performance. And these are only a few of the possibilities available.
In short, the most important insights for optimizing your supply chain in just a few clicks.
Reports are linked to a user profile. You can therefore decide who sees what within your organization.
With Qlik Sense, you have the necessary reports which help you keep control of your logistics business.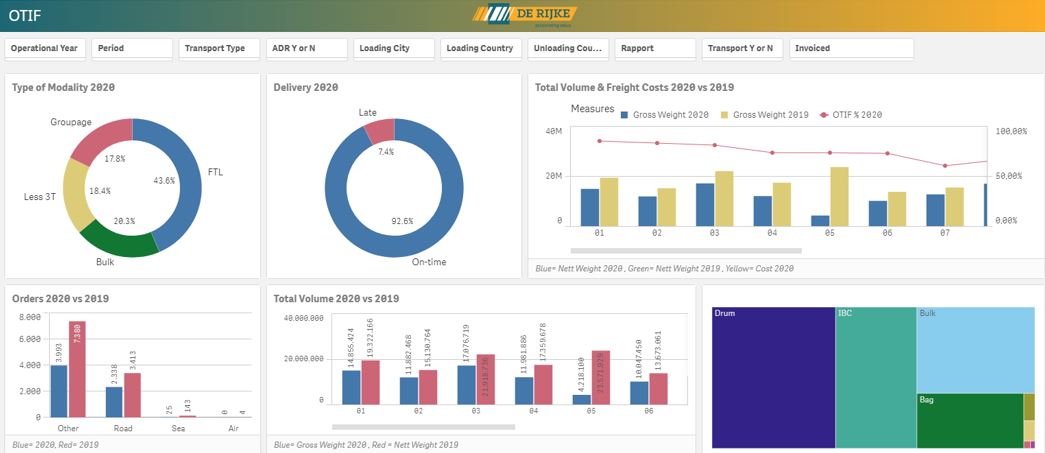 Qlik Sense Added Value
There are various benefits of working with Qlik Sense, such as:
Real-time insights into KPIs
Clear, customized dashboards
Extensive reports
All your management information also mobile
Our Innovations. De Rijke's services are continuously developing. For example the possibility to use Qliksense from mobile. This way you not only have real-time insight in your statistics, but also wherever and whenever you want. More information? Take
WOULD YOU LIKE TO GET IN CONTACT WITH ONE OF OUR ADVISORS?
Our employees are happy to help you!